Static Electricity

Airdate
November 29, 2000
Curriculum
Science
Static Electricity is a BrainPOP episode launched on November 29, 2000.
Moby was approaching to the mirror and shocks Tim's back.
Appearances
Edit
Transcript
Edit
FYI comic
Edit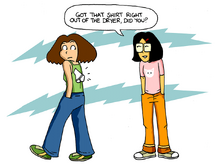 Cassie has an underwear being static clinged to the back of her shirt and Rita sees it.
Rita: Got that shirt right out of the dryer, did you?