Hackers

Season
32
Episode
7
Airdate
December 5, 2015
Curriculum
Social Studies
Engineering & Tech
Hackers is a BrainPOP Technology and Social Studies video that launched on December 5, 2015.
Tim is on his laptop, Moby keeps plugging in Tim's laptop when Tim got a Moby virus when he unplugs it out of Moby's ear.
In the end, Tim got another Moby virus when Moby is swinging in a vine when it crashed to the east side. Why? Because this Moby virus is very illegal.
Appearances
Edit
At 9 minutes and 3 seconds, this is the longest BrainPOP movie ever aired.
When this movie first aired, they showed the Anonymous Guy Fawkes mask when explaining hacktivist groups. Now it shows a cloaked person instead.
FYI Comic
Edit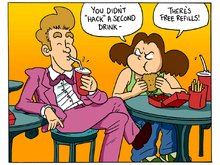 Transcript
Edit