Concept Mapping

Airdate
October 14, 2014
Curriculum
English
Science
Concept Mapping is a BrainPOP movie that aired on October 14, 2014.
Appearances
Edit
Transcript
Edit
When this movie came out, BrainPOP also released the Make-a-Map tool for users to use concept mapping for class, and can take screenshots of movie to include in the map. This feature is only available in BrainPOP U.S.
FYI Comic
Edit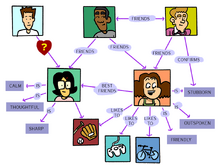 An FYI Comic with the mapping is shown similar to charts.