Cleopatra
Season
5
Airdate
April 7, 2007

Remake: January 15, 2017

Curriculum
Social Studies
Cleopatra
is a BrainPOP Social Studies video that aired April 7, 2007.
The movie starts as Tim & Moby are watching a historical movie. Tim says the movie wasn't nice. Then reads letter about Cleopatra. Tim & Moby talk about Cleopatra. At the end, Tim holds a cell phone. "Just calling Rita...to say hi."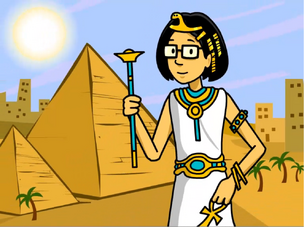 Appearances
Edit
Transcript
Edit
FYI comic
Edit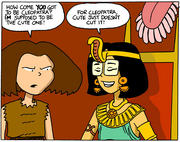 Cassie told Rita about Cassie being Cleopatra because Cassie said that she's supposed to be the cute one, but for Cleopatra, cute doesn't cut it.
Cassie: How come you got to be Cleopatra? I'm supposed to be the cute one!
Rita: For Cleopatra, cute just doesn't cut it!