Ben is the main character of BrainPOP ESL and one of the few people to understand Moby. Ben may be 13-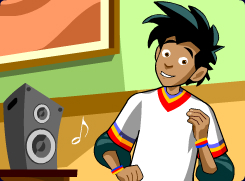 15. He has been known to be sly, as he said to Moby,"My mother isn't home", wrecked the house with Moby and cleaned the house in almost 5 seconds before his mother came home in "I Love The Poppers!". He is shown as noisy at the start of the
I was shy
video, and at the end of the same video it shows he was noisy as well. He might have a crush on Nikki, as shown in the
poppers
vocabulary video. Also, in the
Happy Birthday
video it Ben says that he and moby love her, but seems as a friendship way. Once he helped when Nikki was sick in
What Nikki Wants
.
Relationship with Moby
Edit
Moby is Ben's best friend. They both love the same band and Ben teaches Moby a lot of things. Ben also helped Moby win the orange gumball while teaching him about probability. He helped remind Moby about their friend, Mike. They talked about their hobbies and counted Ben's postcards. Whatever these guys do, they always got their backs!
Friends and family
Edit
As seen in the section above, Moby is one of Ben's friends. In Hi, I'm Ben, you can see he also has friendships with a boy named Ed and a girl named Nikki. In My Mom's Pictures you can see he has a mom and a dad, as well as a grandfather. He has a cousin named Larry, seen in the Take Up a Hobby video. In that same video, it shows he has an uncle as well.
One of Ben's hobbies is collecting postcards, as seen in Take Up a Hobby. He says "I'm really good at baking" in Thanks for Nothing, and in other videos sometimes does it, so baking might be another one of his hobbies. In Styles of Art he has many paintings and likes painting, which also might be a hobby of his since he has so many paintings.